History
Loads of Love's relief efforts began in March1995 as a one-time humanitarian response for Dnepropetrovsk an area in eastern Ukraine that had been severely oppressed following the fall of Communism. However, 22 years and dozens of containers later Loads of Love is still in the business of providing a physical expression of God's love to the oppressed whether orphans, seniors, disabled or those experiencing difficult times.
2005 Restructuring
In January 2005 Loads of Love entered a new phase, when we rented a building located at 41 Byng Ave.
In 2010, we moved into a new location at 127 Colborne St, Chatham. More than just a warehouse Loads of Love is people sharing their lives with those in need wherever, whenever and however they are needed.
Every year Missionary Teams from 1-30 people head to world-wide destinations such as Ukraine, Indonesia, Kyrgyzstan, Cuba, China, Armenia, Israel, and Zambia to share God's love through McJoyful Christmas, church building, senior's ministry or teaching English as a second language.
Others provide mittens, scarves, hats and blankets through Project To Be Warm or vehicles through HopeWheels and education through Loads of Love's child sponsorship program Children of Hope.
Disaster Relief
2005 proved to be a year filled with disasters beginning with the Indian Ocean Tsunami and ending with the devastation of the Gulf Shore caused by hurricanes Katrina and Rita.
Loads of Love responded to the Indonesian Tsunami survivors by spearheading efforts in the Chatham-Kent Area that generated over $85,000 in relief dollars. The money provided emergency shelter and food as well as long- term necessities for the survivors of the terrible disaster.
Later in October, Loads of Love again responded to the cries for help from those affected by hurricanes Katrina and Rita. In cooperation with Convoy of Hope, an American relief organization, Loads of Love was able to deliver on behalf of Chatham-Kent, 176 Hygiene kits for both men and women as well as 47 "love-in-a-box" kits designed to comfort the children of the disasters.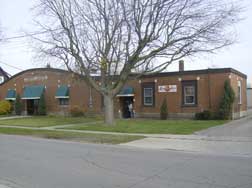 Loads of Love has Out-Grown its Warehouse Location! With increased demand & Doner Support, we now operate our Warehouse Centre from 127 Colborne St., Chatham.
Please stop in for a visit or to drop off any un-used household items.
Loads of Love is a multi-faceted faith-based ministry outreach that shares God's love in a practical way with the needy both locally, in Chatham-Kent and globally, around the world, by living the words of Jesus "If you have done it unto the least of these, you have done it unto Me." (Matthew 25:40)